Book Printing - Custom PDF Printing And Binding Services - No Minimum
Share
Description
Most of us need to print and bind pdf. We always hope that we can print on our demand, place an order easily, and cheap online printing and binding are the best.
Homeinnk Print offers great prices and excellent service. Welcome to the simplest place to make a book, and enjoy the cheap way to print pdf books.
Homeinnk Print provides you with quality printing and binding service for your documents in the highest quality at competitive prices. We have 5 types of binding to choose from: staple binding, Softcover( glue bound ), spiral binding, hardcover printing, and wire binding. Let's create a printed book from your digital files now! PDF to print and bind into a book, photo book, family history book, personal novel, home/study/office document, custom ebook for kids/family/yourself, etc.
Information For Pdf File Setup

 
How to provide my print pdf files?

 
The way that suits you is ok. -One file per order or Multiple files in one order 
About the cover and inside pages

 
Cover:
Color options: Full color, greyscale (black & white), or single-color printing optional.

About coating on Covers: we provide 2 lamination types. Glossy lamination and matte lamination.

Paperweight: High-quality 110 Ib smooth art paper is used by default.

Note: 110 Ib goffered cover paper is used in single-color printing of perfect binding.
Inside pages:
Color options: Full color, or greyscale(black & white) printing optional.

Paperweight: For black and white printing, High-quality 55 lb text paper is used in default. For Color printing, 80lb text paper is used by default. And for Color photo book printing, 100lb text paper is used by default.
Format and orientation
You can choose either an Letter (8.5"x11"), 8" x 10", A4(8.3"11.7 "), B5 (6.93 x9.84"),
A5(5.8x8.3") format, or customize your paper size. And then, choose a left side or top side orientation.
Types of book binding:
Perfect bound book printing(Softcover): Up to

700

pages per book.

Wire bound book printing: Up to

230

pages per book 

Saddle stitching bound book printing: Up to

64

pages per book 

Spiral-bound book printing: Up to

550

pages per book

Hardcover book printing: Up to

800

pages per book 
Note: The pdfs that exceed their respective max page count will be split into 2 books.
You can choose one from the 5 book binding methods as above. Visit the blog:  The 4 most popular book binding methods to learn more details of binding
Affordable printing

 
From ¢6 per page in black & white copy printing, and ¢16 per page in color copy printing. We don't set the minimum order quantity, it might be the cheapest way to print pdf books.
Completing your order

 
Add to cart or buy directly if every step has been done.
About coating of the cover 
Homeinnk will provide you with not only the finest printing services but also the coating service for cover. The coating can effectively prevent the books from being faded or damaged by water, sunlight, chemicals, and dust. Choose glossy or matte coating for the cover as you please.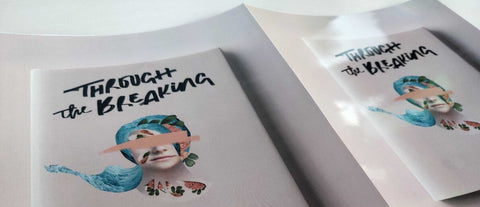 Matte(left) and Gloss(right)
About the paper color of the inside page
Note: Only Black & White printing books have the option of beige yellow paper.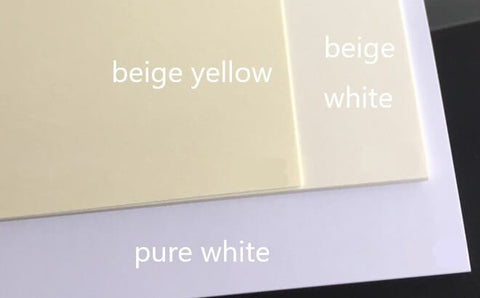 The purpose of beige yellow paper is not only beautiful but also very practical. It can protect the eyes from harmful light to prevent eye fatigue. The color is very pleasing to the eye. Beautiful! Especially for the family history book printing!
Details of binding
Perfect Binding (Paperback)

Note: Our largest binder holds about 700 pages (350 sheets). If you upload a document with more than about 700 pages we will split the document into more than one binder And as a gift, the newly added cover paper will also be free.
Different types of cover papers will be used in different color printing options.
(1)Smooth paper for full-color cover or B&W cover
Print your PDF's first page as cover default.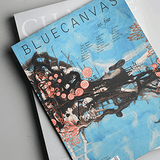 (2)Goffered paper for the single color cover
Isn't the document's first page appropriate for cover?
You can choose a single color printing.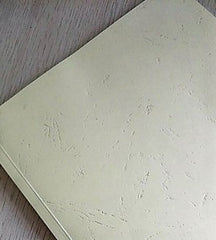 How to add an image cover or your own designed cover to a PDF file online? Click here: pdf online edit.
Wire Binding 

One of the most common binding methods suitable for photo albums, personal portfolio family commemorative albums, wedding albums, and growth albums.
Note:
Wire binding supports up to

230 pages(115 sheets).

Wire binding will have the transparent matte plastic sheet as the front cover and back cover to protect the inner paper, your first page will still look great. Two colors of wire will be used randomly (black and white contact us if you want a special one).
Spiral binding
Spiral binding is perfect for workbooks, training books, and any project where the reader wants to flip pages around the back 360° Spiral-bound books are popular for their low cost, amazing durability, and professional presentation.
Note: Spiral binding is up to

400 pages (200 sheets)

, we'd like to help to split your file into 

2+ volumes if it's more than 400 pages.

We will randomly use black or white solenoids for your book, tell us if you have a demand for the color of the spiral.
Saddle Stitch Binding 

(Recommend for the pdf less than 64 pages):
Easy to carry, beautiful, suitable for product manuals, training manuals, and authorized scripts.
About the pattern or color of the cover paper:
For the pdf we received within a pattern as its first page, the pattern will appear on the cover after printing. We usually print the first page of your file as the cover of the book and print the pages from 2nd page as the inner pages of the book.

As for the pdf without any picture on its first page, you can choose a single color cover for your book. Or let us help to design one.
Custom Hardcover book printing

Custom hardcover book printing is mainly used for high-quality books, such as photo albums, wedding albums, catalogs. and so on. In addition, we provide a free file layout processing service if it's needed. 
Note: 
Hardcover binding is up to

800 pages(400 sheets)

, we'd like to help to split your file into 

2+ volumes if it's more than 800 pages.